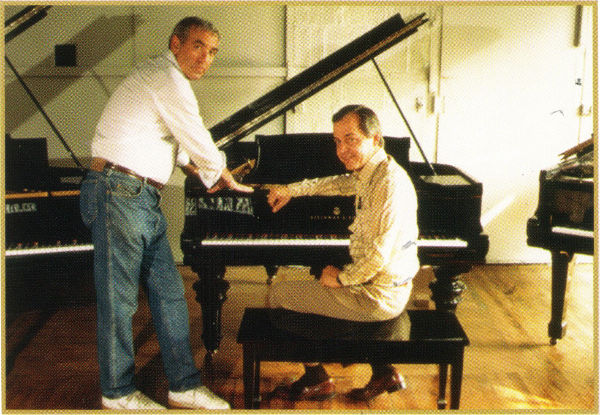 THE RESTORATION OF THE GOLDEN GRAND
Following the recommendation of Steinway Chairman, John H. Steinway, George Michalski entrusted the interior restoration to renowned piano conservationist, Lloyd Meyer of Camilleri Pianoworks LTD in New York.
Famous concert artists and leading institutions like The Juilliard School of Music and The Peabody Conservatory have relied on Camilleri to restore their cherished instruments.
The project began in November 1986 and took 5 months to complete. Meyer installed a new soundboard, pin block, strings, and action to the 1904 Ayuso-carved Steinway.
Michalski's prized piano joined an elite list of Steinway restored by Camilleri Pianoworks.
The Alma-Tadema Steinway made in 1883 for Henry G. Marquand, then president of the New York Metropolitan Museum, and purchased at Sotheby's in 1980 for $390,000, was also given to Camilleri for their expert restoration. It subsequently sold at Christie's in 1998 for $1.2 Million to the Sterling and Francine Clark Art Institute in Williamstown, Massachusetts.
In July of 1995, eight years after the piano's interior restoration, George Michalski attended the PTG (Piano Technician Guild) Convention, held that year at the Hyatt Regency Hotel in Dearborn, Michigan. Michalski had made the decision to have the piano completely re gilded and asked the Steinway representatives in attendance for a referral. Without hesitation, they suggested Glen Hart of Grand Junction, Colorado who also was attending the convention.
Hart enthusiastically took on the assignment but his calendar was booked through September 1998. In October 1998, Glen commenced work on Michalski's piano at his Hart of Gold gilding studio. Over a 16 month period of time, 6,500 full sheets of gold cut into 60,000 individual pieces were applied to the Golden Grand. The gilding project was featured as the cover story in the September 2000 issue of Piano Technicians Journal. The present value of the 24 karat gold leaf finish exceeds $80,000.